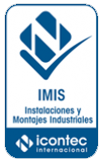 Through this procedure, ICONTEC certifies that any industrial (electricity, gas, transportation, etc.) installation or assembly operation, is in compliance with the provisions of the Colombian Technical Standards or the Technical Regulations that have been established by the regulatory authority for any specific industrial sector.
This service allows both industry and users, to have access to certified products or companies with certified management systems, and request a certificate of conformity from the firms in charge of the installation or assembly. This way, they can have a quality guarantee that supports the execution of the installation/assembly components and equipment at any given industrial plant or application.
Scope of certification 1: Liquid Fuel Service Station, C.I. UNIBÁN S.A., Km 37+800 via Carepa, Apartadó Antioquia. Certificate No. 2454-1
Scope of certification 2: Large Consumer with Fixed Installation, C.I. UNIBÁN S.A., Zungo Embarcadero, Carepa Antioquia. Certificate No. 056-1.