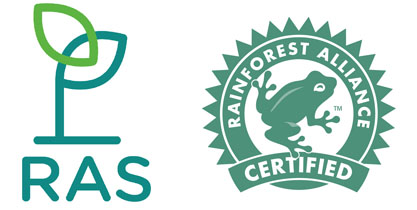 The Sustainable Agriculture Standard ensures the production of fruit coming from farmlands where the workers and their families carry out their duties under decent working conditions; on the other hand, the protection of the natural resources and biodiversity is ensured.
This standard and its traceability system ensures the traceability of the certified fruit back to the certified farms or farm clusters where it was produced.
Compliance with the Sustainable Agriculture Standard grants the right to bear the Rainforest seal on export products.
The Urabá region has 168 farms independently certified. (Each producer has its own certification)
The Magdalena/La Guajira region is currently in process of certification.